Zuleka Henderson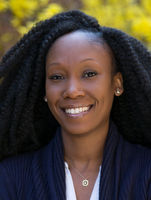 Zuleka Henderson is an Assistant Professor of Social Work at Bowie State University. Zuleka's research and writing have focused on addressing trauma and the behavioral health needs of African American adolescents and on advancing intergenerational healing among Black families. 
Zuleka is passionate about her role as an educator. She is collaborating with scholars across disciplines to develop teaching approaches that can reduce research and statistics anxiety among social work students. She has also worked with colleagues to examine the implications of historical trauma theory for culturally relevant pedagogy within social work research curricula. Zuleka's scholarship and academic work is complemented by her commitment to community. She served on the leadership team of a Rites of Passage program for young girls from New York City and has volunteered to present workshops about trauma, healing, and creative self-expression for adolescents in Washington, DC. 
Zuleka received her Ph.D. in Social Work from Howard University, her Master's Degree in Social Work from Fordham University, and her Bachelor of Arts Degree in Sociology from Wesleyan University in Middletown, Connecticut.