MSI Aspiring Leaders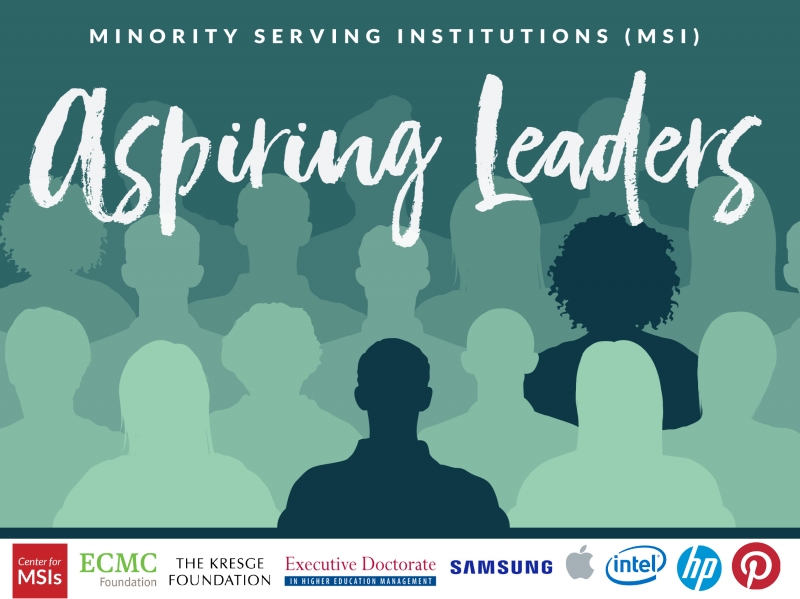 Supported by $825,000 from ECMC Foundation, The Kresge Foundation, Apple, Hewlett Packard (HP), Pinterest, Samsung, Intel, and the Penn Executive  Doctorate in Higher Education Management program, MSI Aspiring Leaders is a program developed by the Rutgers Center for Minority Serving Institutions (CMSI) that will bring together prominent Minority Serving Institutions' (MSI) leaders to engage with mid-career aspiring leaders from the education, non-profit, and business sectors in an effort to prepare the next generation of MSI presidents.
MSI Aspiring Leaders includes both a leadership forum and mentorship program and has been designed to help promote diversity among higher education leadership, where nearly 60% of sitting university presidents are over the age of 60 and where many see a lack of opportunity for women and people of color. By providing professional development workshops focused on 21st-century skills as well as two years of post-forum mentorship, MSI Aspiring Leaders hopes to cultivate future MSI presidents by strengthening pathways to leadership and building connections between peers with similar aspirations and abilities.
The forum will include discussions and workshops on topics such as the presidential nomination process, managing relationships with faculty, using data to make decisions, fiscal management, strategic fundraising, assessing student learning, and navigating the media. After the forum, mentors and their mentees will participate in a one-on-one mentoring relationship through in-person meetings, conference calls, and email over two years. CMSI will facilitate these relationships and provide benchmarks to be completed at various points throughout the two years, with the hope that these relationships may be part of a future longitudinal study to measure the influence of such mentorship on mentees' career trajectories.
In our effort to encourage attendance and minimize financial burden, MSI Aspiring Leaders will be hosted without program fees to all invited participants. In addition, all meals and materials will be provided by CMSI. Participants will only have to cover the cost of their personal travel and lodging.
APPLICATIONS FOR MSI ASPIRING LEADERS ARE NOW CLOSED.