MSI Aspiring Leaders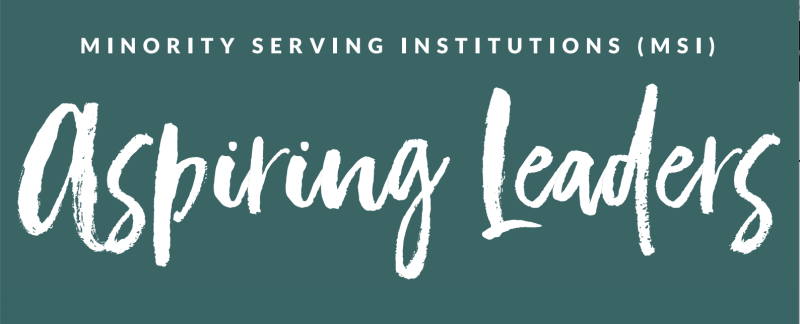 Supported by The Kresge Foundation and the ECMC Foundation, MSI Aspiring Leaders is a program developed by the Rutgers Center for Minority Serving Institutions (CMSI) that brings together prominent leaders from Minority Serving Institutions (MSIs) to engage with mid-career aspiring leaders from the education, non-profit, and business sectors in an effort to prepare the next generation of MSI presidents.
MSI Aspiring Leaders includes both a leadership forum and mentoring program, and is designed to help promote diversity among higher education leadership, where nearly 60% of sitting university presidents are over the age of 60 and where many see a lack of opportunity for women and people of color.
By providing professional development workshops focused on 21st-century skills as well as 1.5 years of post-forum mentorship, MSI Aspiring Leaders hopes to cultivate future MSI presidents by strengthening pathways to leadership and building connections between peers with similar aspirations and abilities. The forum will include discussions and workshops on topics such as the presidential nomination process, managing relationships with faculty, fiscal management, strategic fundraising, student success and student learning, working with boards of trustees, and navigating media relations. 
After the forum, mentors and their mentees will participate in a one-on-one mentoring relationship through in-person meetings, conference calls, and email over 1.5 years. CMSI will facilitate these relationships and provide benchmarks to be completed at various points throughout the 1.5 years.
The MSI Aspiring Leaders Forum will be hosted on April 18-19, 2024. All meals, lodging for 2 nights, and materials will be provided by CMSI. Participants must cover the cost of their personal travel. The overall program cost is $750 and is due upon selection and confirmation of program participation.
---
---
SEE WHAT PAST ASPIRING LEADERS HAD TO SAY! 
---
"For me one of the reasons that I want to serve at a Minority Serving Institution is that I've never attended one. However, I've always been committed to the work that they have done. I've always admired the work that they have done. With this program, I was able to learn more about MSIs and how to best serve them." —Aspiring Leader
"I think the program not only solidified my interest in serving at a Minority Serving Institution, it highlighted in a very real sense some of the challenges that are associated with leading an MSIs. I recognized that one of the principal variables is the ability to identify the resources that are necessary to maintain the viability of the institution. Fundraising is such a critical component because when you have appropriate resources, there are a whole lot of things that can be accomplished." —Aspiring Leader
"You have to have courage to be in this kind of role. You have to be a real strong, effective communicator. Your character will speak to everything you do, the decisions you make overall. You have to care, so you have to care not only about the institution, but the students, the faculty, the staff, everybody. This program prepares you for that." —Aspiring Leader
"I think centering the most marginalized voices, not only in college leadership, but in just leadership in general is really, really important. This program does just that." —Aspiring Leader