Yvette Lynne Bonaparte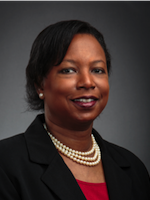 Yvette Lynne Bonaparte is a collaborative marketing scholar and practitioner. She has a twenty-year track record of success in private industry and has held leadership positions in the areas of brand/product management, global marketing, customer insights, and program management with some of the world's leading corporations in the consumer packaged goods, technology and health care industries. She has also consulted with leading organizations within higher education and the health care industry in the areas of strategic marketing and diversity and inclusion.
During her corporate marketing career, Yvette and her teams successfully launched and managed numerous products and programs targeting various audiences. Her responsibilities included leading global marketing teams, building and realigning departments to support corporate goals, developing and implementing strategic marketing plans, managing multimillion-dollar budgets, and delivering profits. Yvette's academic accomplishments include degrees from the following universities: Brandeis University (BA in economics), Duke University - The Fuqua School of Business (MBA in marketing), and North Carolina A&T State University (PhD in leadership studies). Currently, Yvette is Assistant Professor of Marketing in the Department of Business Administration in the School of Business at North Carolina Central University in Durham, North Carolina, where she teaches courses in marketing and management. The primary focus of Yvette's research agenda is pharmaceutical/health care marketing and its relationship to disparities. Additionally, she is interested in researching and documenting the leadership experiences of underrepresented minorities in corporate settings.