Vincent Owoseni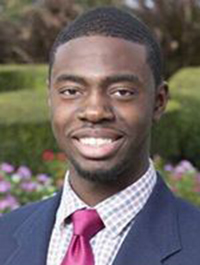 Vincent Owoseni is a Junior and Presidential Scholar at Paul Quinn College, majoring in Business Management. He is the son of two Nigerian natives and the oldest of five children. Originally hailing from Brooklyn, New York, he is known for his commitment to servant leadership through entrepreneurial approaches and his consistent high achievements.
Vincent graduated as valedictorian of the first graduating class of his high school. Shortly afterwards, he became the CEO of a motivational clothing company called Appetite For Distinction. The motto of his brand is "cultivating a society of purpose-driven young individuals." Upon enrollment at Paul Quinn College on a full scholarship, Vincent sought leadership opportunities immediately. He was selected as a member of the Duke Immerse program, a semester-long research initiative in which eight Paul Quinn College students and seven Duke University students studied the relationship between social inequality and environmental outcomes. Currently, Vincent serves as the Executive Director of the My Brother's Keeper initiative on campus. Pioneered by President Obama, this initiative is dedicated to addressing the persistent opportunity gaps faced by young men of color to ensure that all young people can reach their full potential. Additionally, Owoseni is the Polemarch (President) of the Lambda Lambda Chapter of Kappa Alpha Psi Fraternity, Inc., a social organization predicated on the principle of achievement. He is also a recipient of the Envestnet Institute on Campus scholarship, sponsored by the Money Management Institute. This program is geared towards students who are pursuing a career in wealth management and offers rigorous online courses to educate recipients on the core principles of financial advising. Vincent has managed to accomplish this all while maintaining a 4.0 GPA.
Vincent seeks the opportunity to study abroad as an avenue to increase his global cultural competency. In addition to gaining social exposure, he believes that our world is a global economy and sees business as a creative, problem-solving tool that knows no geographical boundaries. Studying abroad will transform him both personally and professionally and will reveal more opportunities for him to leave places better than he found them.