Nicole R. Stokes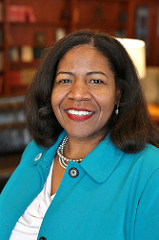 Nicole R. Stokes, Ph.D., brings 25 years of academic and administrative experience to her role as Associate Provost for Diversity, Equity, and Inclusion, along with a personal and professional commitment to promoting increased access, inclusion and equity.
Throughout her career, and most recently at Holy Family University in the role of Vice President for Institutional Effectiveness and Diversity, Nicole has led efforts to develop programming, training, surveys and curricula focused on diversity and inclusion. She was instrumental in the implementation of diversity modules in the first-year experience course, the general education curriculum and the capstone course at Holy Family, and has led extensive training for faculty, staff and administrators on topics ranging from difficult classroom conversations and free speech to diversity in hiring and retention efforts.
As a professor of sociology, Nicole's academic interests and expertise lie in the areas of citizenship studies, international migration, and political systems.
Nicole serves on the boards for the Pennsylvania American Council on Education Women's Network (PA ACE), a networking organization for the advancement of women and people of color into higher education leadership positions, and the Pennsylvania Council for International Education (PACIE), an organization the advocates for global education and cultural competency in Pennsylvania.
Nicole holds bachelor's degrees in sociology and journalism, along with a master of arts in sociology and a master of professional studies in multicultural education from State University of New York College at New Paltz. She earned a Ph.D. in sociology and public policy at the University of Massachusetts Amherst.