Marissa Vasquez Urias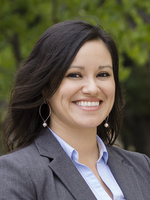 Marissa Vasquez Urias is an Assistant Professor in the Department of Administration, Rehabilitation, and Postsecondary Education (ARPE) at San Diego State University (SDSU)—a Hispanic Serving Institution (HSI).
As the Associate Director of the Minority Male Community College Collaborative (M2C3) at SDSU and a Faculty Affiliate with Project MALES at UT Austin, Marissa is actively engaged in critical and applied research that challenges structural and cultural praxis that prevent equitable outcomes for historically underserved students in higher education. In particular, Marissa's work examines factors that facilitate the success of male students of color, particularly Latino and African American men in community colleges. As a scholar-practitioner, Marissa also serves as the Managing Editor for the Journal of Applied Research in Community College(JARCC) and as a Board Member for the Council for the Study of Community Colleges (CSCC).
Marissa earned an associate degree from Southwestern College in San Diego, CA. She then earned a bachelor's degree in English from the University of California, Berkeley; a master's degree in Counseling with a specialization in College Counseling and Student Development from the University of San Diego; and an Ed.D. in Educational Leadership from San Diego State University.