Lissa D. Stapleton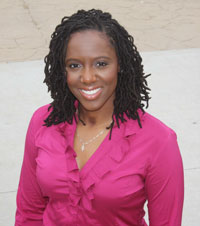 Lissa D. Stapleton was born and raised in Columbus, Ohio. Stapleton is currently an assistant professor at California State University, Northridge in the Department of Deaf Studies. Her research primarily focuses on equity and access, identity development, and the educational history of Deaf students, faculty, and staff with a particular interest in the intersections of race, gender, and disability.
Prior to joining the faculty, Lissa worked as a Community Director in Residence Life with the Lighthouse (Deaf and Deaf Studies majors) Living Learning community, as a Resident Director for Semester at Sea and an international volunteer with Deaf Jamaican and Ghanaian communities. Her desire to find better ways to support Deaf college students of color lead her to pursue her doctorate at Iowa State University. She graduated in 2014 with her Ph.D. in Education with an emphasis in Higher Education and Social Justice and a minor in Women's Studies. She won the 2015 Melvene D. Hardee NASPA Dissertation of the Year award and was the runner up for the American Association for Blacks in Higher Education Dissertation of the Year award. Stapleton's service and professional involvement includes working, presenting and supporting the initiatives of the Association for the Study of Higher Education (ASHE) and the National Black Deaf Advocates (NBDA).
Lissa earned her M.S.Ed in College Student Personnel from the University of Dayton. She attended Wright State University and graduated with a BSW with a minor in African and African-American Studies.