Larry J. Walker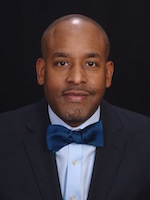 Larry J. 
Walker
 is an Assistant Professor, Department of Educational Leadership and Higher Education at the University of Central Florida.
 His 
research focuses on the impact environmental factors have on the academic performance and socio-emotional functioning of students at HBCUs. In addition, he was selected as a Congressional Fellow with the Congressional Black Caucus Foundation. As a fellow, he collaborated with members of the Congressional Black Caucus (CBC) on an array of education and funding issues. In addition, he served as the Legislative Director for former Congressman Major R. Owens. During Larry's tenure on Capitol Hill, he supervised the legislative staff, worked on amendments to the Higher Education Act (HEA) and fought for additional funding for HBCUs.
Previously, Larry was invited by Congressman Robert "Bobby" Scott, Ranking Member, Committee on Education and the Workforce to moderate a discussion, A Legacy of Excellence: Examining the Unique Role HBCUs Will Play in the 21st Century Economy. He authored/coauthored journal articles and book chapters on HBCUs. In addition, Larry is the co-editor of a book titled, Graduate Education at Historically Black Colleges and Universities: A Student Perspective which examines the experiences of students from public and private HBCUs. Larry's commentary on HBCUs was published in Diverse Issues in Higher Education and the Penn Center for Minority Serving Institutions. Currently, he serves on the Board of Directors for the Cheyney Foundation.