L. Trenton Marsh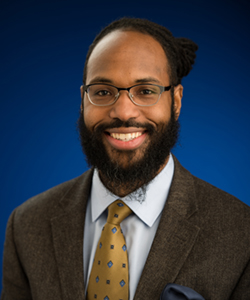 L. Trenton S. Marsh, Ph.D., is an Assistant Professor of Urban Education in the Learning Sciences and Educational Research Apartment and a Program Liaison for the Public Affairs Ph.D. program in the College of Community Innovation and Education at the University of Central Florida. His research interests have intersecting commitments: (1) confronting disproportionality and understanding the lived experiences of historically minoritized students within educative settings; (2) engaging youth/student learners and their families to inform practices and micro-level policies; and (3) exploring how institutional practices and policies may influence marginalized individuals' lives.
Trenton uses participatory research methods and qualitative approaches to support the co-construction of knowledge that could cultivate interest, understanding, and partnerships with participants and their communities. He has been published in journals such as Teachers College Record, Urban Review, Boyhood Studies, Urban Education, GSE Perspectives on Urban Education, Teachers and Teaching Theory and Practice, Florida Journal of Educational Research, and Education Week.
Trenton earned his Ph.D. at New York University's (NYU) Steinhardt School in the Teaching and Learning Department concentrating in Urban Education. Previously, Marsh served as a facilitator for the Youth Leadership Academy, a partnership between CORO Leadership Center NY and the NYC Department of Education. Marsh also served as an Associate Research Scientist at the Metro Center for Research on Equity and the Transformation of Schools, where he evaluated longitudinal disciplinary data for various New York districts. Prior to academia, Marsh was a Managing Business Consultant at IBM Corporation, leading international, cross-sectional teams implementing user-informed data and technology.