Davida Loren Haywood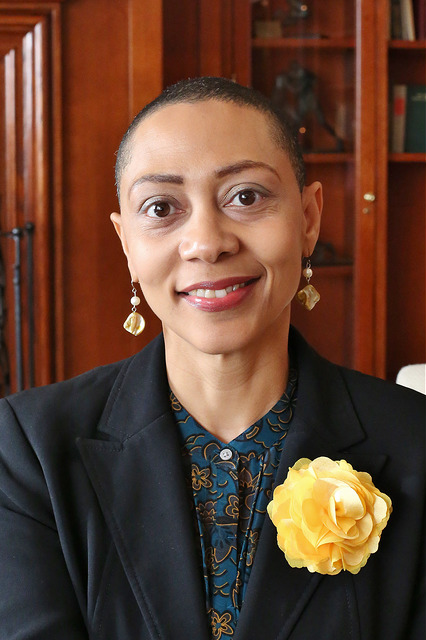 Davida Loren Haywood, PhD serves as the Vice President of Student Affairs and Enrollment Management at Johnson C. Smith University (JCSU). In this capacity, she reports directly to the President and is the chief officer responsible for developing a comprehensive program of enrollment and student services for traditional, non-traditional, evening/online and graduate students in the areas of Admissions and Recruitment, Counseling Services, Dean of Students, Financial Aid, First-and-Second Year Experience/Parent and Family Relations, the HealthPlex, Health Services, Housing and Residence Life, Registrar, Student Conduct, Student Leadership and Engagement and Veterans and Military Affairs. Prior to her appointment, she was the Vice President of Student Affairs and Enrollment Management at Alabama State University for five years. 
Always committed to the holistic development and transformational experiences of students, Davida earned a B.S. in Business Administration (summa cum laude) from Johnson C. Smith University; and, a M.A. in Higher Education and Student Affairs and Ph.D. in Educational Administration and Higher Education from The Ohio State University. Her dissertation, "(Re)inventing in the 'dark': African American women and presidential leadership," won the William E. Loadman Most Outstanding Dissertation Award from the School of Educational Policy and Leadership in 2010.
Davida has nearly twenty-five years of administrative experience in the areas of Admissions and Recruitment, Student Activities, and Diversity/Multicultural Affairs. In addition, she has taught undergraduate and graduate courses on leadership and service-learning, diversity and case studies in higher education at The Ohio State University. Most recently, she co-taught a unique course entitled Current Issues in Higher Education, which focused on the history, as well as current and future realities of Historically Black Colleges and Universities, at Wilmington University. She also serves as a Special Member on the Graduate Faculty at the University of Toledo. Her research interests, papers and presentations often focus on women of color and their participation in higher education; organizational, administrative and executive leadership; critical race feminism; racial and gender identity development; and, service-learning. 
During the summer of 2016, she was selected as a Program Fellow by the Higher Education Leadership Foundation. Similarly, she received certificates in Leadership and Advocacy (Advancing to the Presidency-American Council on Education) and Executive Leadership (On the Road to the Presidency-Hampton University), during the fall of 2017. In 2019, she served as one of four Faculty-in-Residence, for ACPA's Aspiring Senior Student Affairs Institute. Of late, she has continued her leadership journey by participating in the Council of Independent College's Presidential Vocation and Institutional Mission Program. 
When not meeting the needs of her students, she is just "Mommy," to two, very energetic and endearing sons: Kenneth, Jr. and Kole.