David P. Lopez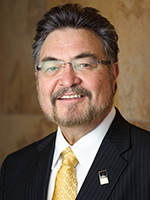 Dr. David P. López has served as president of The National Hispanic University since 2003. He brings more than 35 years of higher education experience to the role as he works to expand access to affordable, quality education for Hispanics and other underserved students.
After beginning his teaching career in the College of Education at New Mexico State University, Dr. López taught at California State University, Fresno, where he became a tenured faculty member in the School of Education and Human Development. Dr. López has received numerous awards and accolades, including being named the "most influential Latino educator in Silicon Valley" by a panel of community organizations in 2007, receiving the 2005 Hispanic-Net Educator of the Year Award, and receiving an American Diabetes Association/National Father's Day Council Father of the Year Award in 2004.
Dr. López earned his Doctor of Education with a concentration in Curriculum and Instruction at New Mexico State University. He earned his M.A. in Educational Administration at New Mexico Highlands University and his B.A. in Elementary Education from the University of New Mexico.