Chinwendu Maduegbunam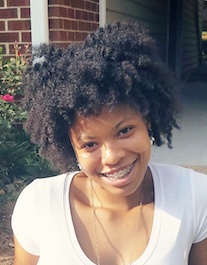 Chinwendu "Chi-Chi" Maduegbunam is a sophomore attending Fayetteville State University. She is majoring in psychology and minoring in biology with hopes to attend medical school afterwards. Chi-Chi was born in Boston, Massachusetts to Osita Maduegbunam, a Nigerian chief, and her mother, Nigeria Johnson. With few opportunities in a crime-filled area, her parents decided to uproot their family and move to Charlotte, North Carolina. In Charlotte, Chi-Chi was presented with numerous opportunities, especially at her high school, Providence High School. There, she participated in a vast amount of extracurricular activities such as the community service club, multicultural club, and, most importantly, women's basketball. Her involvement in basketball allowed her to join the Charlotte Lady Monarchs, a travel team allowing for college exposure.
With a high GPA and good SAT scores, Chi-Chi was accepted into Fayetteville State University with an academic and athletic scholarship. The university's highest academic scholarship, the Chancellor scholarship, allowed her to receive benefits of becoming a global scholar. A global scholar must meet certain requirements to allow a well-rounded person to develop, such as maintaining a high GPA and participating in community service events. Along with other students, they receive information about study abroad programs such as the Frederick Douglass Global Fellowship.
Chi-Chi's success did not end at high school but rather continued to excel early in her college career. She maintains a 4.0 GPA, while being a student-athlete. She was also named Miss Hackley Honors Hall her freshman year. She made the Chancellor's list for three consecutive semesters, received the Academic Excellence Award, and was inducted into the National Freshman Honor Society, Phi Eta Sigma.
Chi-Chi plans to continue her success with the Frederick Douglass Global Fellowship to gain necessary skills to fulfill her future goals. She wants to positively impact the people around her by becoming a pediatrician or pediatric psychiatrist. Later on in her career, she wants to develop a charitable organization in Nigeria to give medicine, clothes, food, and other necessities to impoverished areas.