Alfred G. Perez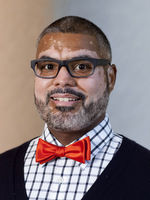 Alfred G. Pérez is an assistant professor at the University of Texas at San Antonio. His scholarship focuses on child welfare policy and practice decisions and the extent to which these policies and practices meet their objectives while also yielding unintended consequences. To this end, Alfred is currently investigating the policy and personal challenges of translating state-sanctioned permanence—adoption and guardianship—into psychologically meaningful permanence among foster care alumni. Alfred is also co-Principal Investigator (with Monica Faulkner and Tina Atkins) of the Texas Youth Permanency Study, a longitudinal study examining the post-permanency experiences and long-term developmental outcomes of older youth in Texas' foster care system. Alfred teaches graduate courses in social welfare history and policy.
Before moving into academia, Alfred served as senior policy advisor to former Arizona Governor Janet Napolitano, served as policy analyst for the Pew Commission on Children and Foster Care, and was a featured speaker at the White House bill signing ceremony of the Foster Care Independence Act of 1999. Alfred currently serves on numerous boards and advisory committees, including the Texas Supreme Court Children's Commission, and is a consultant to the U.S. Children's Bureau's Capacity Building Center for States.
Alfred received his B.A. in Social Work from San José State University, M.S.W (Social Policy & Evaluation) from the University of Michigan, and Ph.D. in Social Welfare from the University of Chicago.