A Rich Source for Teachers of Color and Learning: Minority Serving Institutions
Short Description:
Published in October 2016 by the Center for Minority Serving Institutions at the University of Pennsylvania. with grant funding from the W. K. Kellogg Foundation.
This report provides the latest data available on the racial diversity of teacher education in the United States as well as retention and graduation statistics of minority teachers. The report also looks at the pioneering strategies of four MSIs to provide recommendations that, if adopted, could increase the diversity of K-12 teachers nationwide.
Release Date:
Tuesday, October 18, 2016
Thumbnail Image: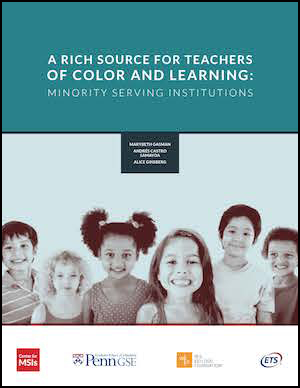 Feature this Publication: